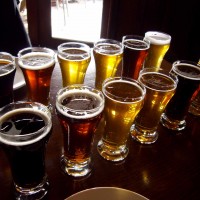 Who doesn't love a great beer bar? Any place that I can sit at a bar, try some new beers and enjoy great food, is a place I want to be! Thrillist put together a list of "The Best Beer Bars In Every State."
Here's how the Four-State stacked up:
Maryland – Max's Taphouse in Baltimore. When you first walk in, you may think you're in the UK but don't let that deter you from stopping by! Max's Taphouse has 150 tap beers including some local favorites from Brewer's Art, Stillwater and Flying Dog. Plus, there are over 1,000 bottled beers to choose from! I don't know how you'd choose where to start but it definitely is a place to check out!
Pennsylvania – Monk's Café in Philadelphia. Specializing in Belgium beers and pub food, they've got quite the impressive tap beer list and over 300 bottled beers!
Virginia – Mekong in Richmond. Perhaps the only bar in America that successfully combines beer and Vietnamese comfort food! They have a huge tap beer list and you can get pho, need I say more?
West Virginia – Apothecary Ale House & Café in Morgantown. With an ever changing tap beers and over 150 bottled beers, this place gives you a reason to visit Morgantown!
DC – ChurchKey 1337 14TH Street NW in DC. Yes I know Washington, DC isn't a state but it's close enough and I love beer. This place has 55 draft lines and over 500 bottled beers and bonus, it's above Birch & Barley who does an awesome homemade poptart.
Bonus, my home state:
Minnesota – The Happy Gnome in St. Paul with 70 beers on tap and an incredible menu. In my personal opinion, you should get something from Surly Brewing Company, I'm a fan of the Surly Bender, Surly Furious, Surly Hell and really everything Surly does! If you're ever in my home state, you should definitely check this place out!
Now, who's ready to roadtrip and hit all 51 bars with me?