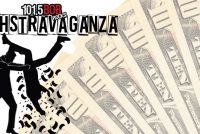 Great Bob Rocks $10 Give Away!
As a thank you for being a loyal Bob Rocks listener and a part of Bob Nation, we're giving you a chance to win CASH
Listen for your chance to call in and tell us what you'd do with $10!
Then listen on Fridays just before "The Rage", CrazyBob will pick a name from the week's qualifiers. That person will have 15 minutes to call back and win TEN DOLLARS!!! And whatever trinkets we can find laying around
This week's trinket: a $200 shopping spree from Hip Gypsie Emporium on Mont Alto Road Chambersburg
But more importantly… $10!!