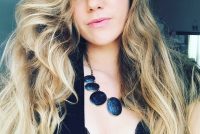 Bob's Homegrown Hotties
September 2017
Q. Favorite Band Heard on 101.5 Bob Rocks/Favorite Song:
A. Avenged Sevenfold
Q. Favorite Hobby:
A. Lifting weights
Q. What Do You Hope To Accomplish In Life:
A. My main goal is to finish up with my degree. I am in my third year of college pursuing my bachelors as a registered dietitian. I have modeled for a few smaller companies and have been featured in a magazine, but a big goal of mine is to model for a bigger company one day.