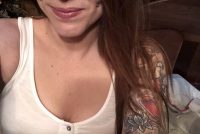 Bob's Homegrown Hotties
November 2018
Q. Favorite Band Heard on 101.5 Bob Rocks/Favorite Song:
A. Rob Zombie or NIN
Q. Favorite Hobby:
A. I love hiking and just being outdoors in general
Q. What Do You Hope To Accomplish In Life:
A. Right now, I'm going to school for massage therapy and working on a children's book. Other than that, I'm just trying my best to do some good in the world.