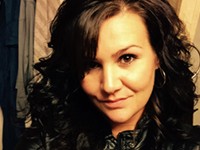 Bob's Homegrown Hotties

March 2016

Heather B.
Q. Favorite Band Heard on 101.5 Bob Rocks /Favorite Song:

A. Three Days Grace


Q. What Do You Hope To Accomplish In Life:

A. To finish my schooling to be a radiologist and to continue to be a great mom to my son. 


Q. Qualities You look For In A Guy:

A. Honest, hard working, and great with kids. Has to have a great sense of humor but also know when to be serious and always be willing to try new things. Oh and he has to have a motorcycle.


Q. Favorite Area Hangout:

A. Anywhere with beer… 


Q. If A Guy Does This, He Has No Chance With You:

A. Disrespect and lies get you no where with me.