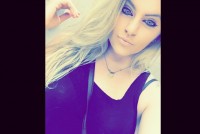 Bob's Homegrown Hotties Cancun Cantina Bikini Contest Third Place
Q. Favorite Band Heard on 101.5 Bob Rocks /Favorite Song:
A. Disturbed
Q. Favorite hobby:
A. Spending time with my nieces & nephews
Q. Career goals:
A. I'm in my second year of college at Stevenson university & I hope to graduate & go on to work with children with disabilities
Q. Life goals:
A. After I graduate college, I hope to find a boyfriend. & move somewhere in a big city, & start my family& have 6 children.