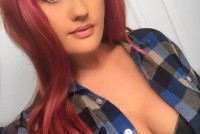 Bob's Homegrown Hotties
January 2017
Q. Favorite Band Heard on 101.5 Bob Rocks /Favorite Song:
A. he Pretty Reckless
Q. Favorite Hobby:
A. Working out
Q. What Do You Hope To Accomplish In Life:
A. My goals are to go to as many concerts as possible in my lifetime, become a licensed cosmetologist so I can make others feel beautiful, and make every day a kickass day.