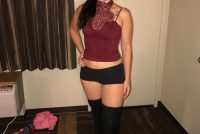 Bob's Homegrown Hotties
January 2018
Q. Favorite Band Heard on 101.5 Bob Rocks/Favorite Song:
A. Breaking Benjamin
Q. Favorite Hobby:
A. Being active outdoors: hiking, biking, swimming and exploring!
Q. What Do You Hope To Accomplish In Life:
A. My goal is to continue working towards providing a better future for my family and making them happy. I would love for my husband and I to become entrepreneurs and move to the Virgin Islands!