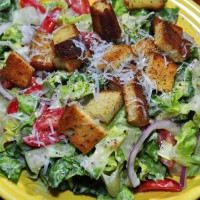 Fox 2 Detroit was airing a live segment for "National Salad Month" with the owner of 7 Greens Detroit Salad Company, Kelly Schafer. She was on the show to give some ideas on how you can "spice up your salad."
Near the end of the segment, co-host Jason Carr came over to check out the food and that's when Schafer made one of my favorite inappropriate salad jokes!
I have to admit, Fox 2 Detroit co-host Deena Centofanti handled the joke like a pro and tried the change the subject.