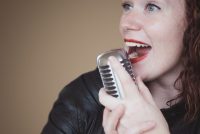 Listen to Ginger Bob, Monday – Friday,  from 10:00 am – 2:00 pm
Where am I from?  
Chicago!!  Chi-town
Favorite Colors  
Yellow, Green, and Blue
Favorite Movie  
Zoolander or Rock Horror Picture Show
Favorite foods 
Chipotle lol
Girl/Boy Crush  
Robert Downey Jr!!! I also love Emma Stone
Favorite Group  
Tool
Favorite City  
Chicago (of course)
What must I have before leaving the house?  
Coffee
Favorite brand name 
Michael Kors
Dream vacation  
EVERYWHERE!  2 week in Australia/New Zealand is first to come to mind if I HAVE to choose