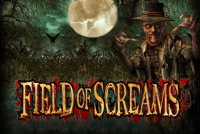 Listen this week for your chance to win a four pack of triple combo tickets to Field of Screams!
After we give you the cue to call, you'll need to correctly answer our classic horror trivia question to win!
4 amazing attractions in one convenient location at Field of Screams; The Haunted Hayride, Den of Darkness, Frightmare Asylum Haunted House, and Nocturnal Wasteland Haunted Trail.
Field of Screams delivers the best bang for your buck and never disappoints its fans.
For the ultimate chills and spine-tingling thrills visit Field of Screams in Lancaster, PA