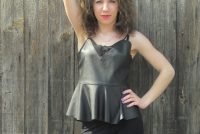 Bob's Homegrown Hotties
February 2018
Q. Favorite Band Heard on 101.5 Bob Rocks/Favorite Song:
A. Led Zeppelin
Q. Favorite Hobby:
A. Songwriting
Q. What Do You Hope To Accomplish In Life:
A. To perform my original songs in front of thousands of people and impact them with my life experiences. Play some Rock N Roll and perform my passion as my day job.