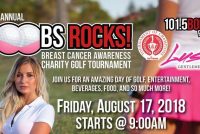 The 2nd Annual BOOBS ROCKS! Breast Cancer Awareness Charity Golf Tournament is ready for an AMAZING tournament at the Woods Golf Course in WV!
Join us for an amazing day of golf, entertainment, lunch & dinner, Corona Girls and the Ladies of Lust
*Friday August 17th, 2018 | Starts @ 9:00 AM!*
Proceeds benefitting Real Men Wear Pink, the American Cancer Society, and The Cancer Resource Center located in the Dorothy A McCormack Center.
Go to 1015bobrocks.com or the Lust Gentlemen's Club Facebook page for a link to sign up your golfers.
First Place team wins $500.00 plus each team member wins a 10 day trip for 2 to Cancun!
Second Place wins $250.00 | Third Place wins $100!