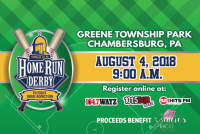 Do you have what it takes to be the Home Run Champ? Earn bragging rights and help Franklin County fight drug addiction with the 3rd Annual Home Run Derby on Saturday, August 4 at 9:00 am (rain date is scheduled for August 5) at Greene Township Park, 996 Elevator Street, Scotland, PA 17254.
Sign up now  to secure your spot for just $15! Pre-registration ends Friday, August 3 at 12:00 noon ($20 day of event, registration at 8:00 am) which includes a free event t-shirt (while supplies last).
All proceeds from the event will go to Gracie's Place.

There will be three bounce houses onsite at the derby – thanks to AE Bounce House Rentals!
Don't miss a special performance from Heidi Raye immediately following the derby!
We are also looking for business/family sponsors and vendors. Click HERE for details or call 717-597-9200 and ask for Blake or Terrie. Sponsorship deadline is July 13, 2018. Make checks payable to HJV Limited Partnership and send to 10960 John Wayne Drive Greencastle, PA 17225.