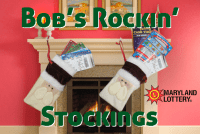 Tis the season…the season to give and hopefully make your Holiday rich…rich with money!
Next week, we will have our Bob Rockin' Stockings hung with care on our Money Mantel.
Each stocking is filled with Maryland Lottery holiday scratch-offs.
Some of these stockings will be filled with other goodies from The Pretty Reckless CDs to gift cards.
Each stocking we are giving away will be filled with at least $20 worth of Maryland Lottery scratch-offs with a top prize of $50,000.
The Maryland Lottery, Let Yourself Play! Go to mdlottery.com/scratch-offs for more details on their holiday scratch-offs.