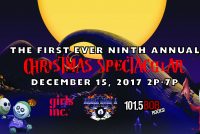 101.5 Bob Rocks Presents
The First Ever Ninth Annual Christmas Spectacular
(formerly the Day Before The Day Before Christmas Spectacular)
Sponsored by Breakaway II Sports Lounge, All Proceeds go to Girls Inc Washington County.
Friday, December 15th 2:00 p.m.-7:00 p.m.
101.5 Bob Rocks goes "ALL LIVE" just like Old Time Radio!
Live Skits, Including Live music, Even the commercials will be live!!
Great Prizes to be auctioned
You can see it all LIVE at Breakaway II Sports Lounge!!
Show up in an ugly Christmas sweater, Christmas pajamas or onesies for your chance to win $500!
Song Bids!! ALL SONG BIDS Any Song, Any Kind of Music! (bid as much as you want too!)
The songs that raise the most money will be played first!!
Make bids at our studios, or when you see us out!
Local Band Special
From now until December 1st, The 1s 20 Local Songs get their "Radio Ready" song on the air for only $25!!
After December 1st, Local bands are only $50
$100 If you'd like to introduce it!
If You're a Business

Become a Sponsor

We ask all local businesses to contact a Verstandig sales representative for details 717-597-9200
Donations
The simplest way to help out is by making a cash donation. All donations are tax deductible
Prize Donations
We are asking all local businesses to donate a Product or Service with a value of $50 or more to auction off.
It's the First Ever Ninth Annual 101.5 BOB ROCKS Jingle Ball Pajama Jammy Jam
Friday, December 15, 2017
Breakaway II Sports Lounge in Hagerstown
Show starts following SPECTACULAR 8:00 p.m.
$5 Donation at the door with all proceeds going to Girl, Inc of Washington County
Hosted by "The Bobs"
Show up in an ugly Christmas sweater, Christmas pajamas or onesies for your chance to win $500!
Giveaways all night
Drink specials: All beer and mixed drinks are only $2! The signature shot will be the Polar Bear fo ronly $2! The following infusions will be available for just $3: blueberry lemonade with blueberries, Sky cherry with cherries, Fireball with apples and apple cider, orange crush with oranges, and Old Camp Peach Whiskey with peaches!