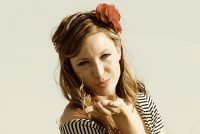 Bob's Homegrown Hotties
June 2017
Q. Favorite Band Heard on 101.5 Bob Rocks/Favorite Song:
A. RED
Q. Favorite Hobby:
A. Sports…especially Football and Volleyball!
Q. What Do You Hope To Accomplish In Life:
A. I left my home state of Wisconsin in December to pursue a nursing degree here in Maryland. I have been a Certified Medical Assistant for 9 years and am looking forward to finally being able to pursue what I was born to do. Help people:) I believe in two things: 1.) that everything happens for a reason and 2.) timing is everything.