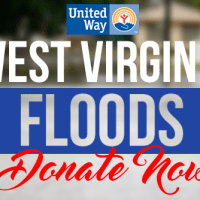 As you probably know, a large part of central and southern West Virginia has been devastated by the worst case of flooding in the state's history. Thousands of people have lost their homes and vehicles, while thousands more have lost access to the basic necessities to live, such as food and potable water. Bridges are gone, roads have been wiped away, forcing many who were spared the wrath of the floodwaters to be trapped in their homes with no way to reach the outside world. Sadly, dozens of people even lost their life to this unthinkable natural disaster. These people are our neighbors, and whether we have had the pleasure of meeting them or not, in times like these neighbors lend a helping hand. After researching the efforts being undertaken and speaking with people on the ground in the disaster area, we have decided to work with The United Way of Central West Virginia. They have established a Flood Emergency Fund to assist affected residents who suffered from loss during the recent flooding in Kanawha, Clay, Boone, Logan and Putnam Counties in West Virginia.These funds will help meet basic needs such as food, shelter, and clothing that were lost in the recent disaster. Additionally, infant and baby needs will be in demand.
This station will be broadcasting live from Break Away II Sports Lounge from 6am to 7pm this Thursday. We will be taking donations to aid in the effort being undertaken in West Virginia. Every donation is important, whether you have $5.00 to spare or $5,000. All donations are equally appreciated. If you can't make it out to see us in person, please go to www.unitedwaycwv.org and click on the Flood Emergency Fund box to make a donation by credit or debit card, or you can stop by our studios at 10960 John Wayne Drive, Greencastle PA 17225 during regular business hours and donate there as well.
Checks can be made out to United Way of Central WV Flood Emergency Fund. We will also be happy to accept cash, and our parent company, VerStandig Broadcasting will make out one check for all the cash donations.
West Virginia is referred to as 'Almost Heaven,' and the outpouring of generosity in the days after this disaster have again shown us why.
If you are a business, we invite you to stop by our live broadcast and drop off your donation, time permitting we will thank you ON THE AIR!!
Also if you'd like to donate any product or service we could use for raffles/giveaways that day, we appreciate it.
If you are coming from VA, WV, or PA you may want to pool money with friends so only one or a few of you have to make the trip instead of everyone trying to make the trip separately, however everyone is invited!
We also invite your workplace or business to pool money together as well, and again, time permitting we will thank you on the air!
Thank you again, and we hope to see you Thursday.